Hello everyone,
and welcome. Please put away all your textbooks and phones because today is surprise test!
And the topic will be…
Adjective Endings
"Oh no, please! We didn't prepare."
Quiet! No one cares!
You had more than enough time to read my mini series with my patented system.
And DON'T you think that you can just read those three articles now. Now, you have to take the test.
And just so you know… if you fail, you have to start German again from ZERO.
Sounds good?
"No, it doesn't!"
Yeah, whatever…. whining won't help you!
Jump in!
So… those of you who have read my mini series probably have also taken the first big exercise about the topic.
The one we'll do today is basically the same… just much harder.
I have tried to compile examples and situations that might trip you up for one reason or another.
Using "was" + the adjective for instance
Ich will was warmes.
I want something warm.
hint: it's always gonna be "-es"
or using an adjective in the more form…
Ein leckererer Kuchen als dieser…
A more tasty cake than this one….
I counted the "-er"s three times here, and it still feels weird :).
So yeah… it'll be tough and it'll raise children you didn't even know you had… oh.. I mean questions.
How it works
In the first big workout, we basically did a fill in the blank kind of exercise, only that you couldn't actually fill the blank :).
Now, I have my new exercise format and I decided to give you two options.
The original sentence is in English. So if you want to get a proper full language body workout you can take it and translate it into German. That means, you basically train everything… adjective endings, vocab, idiomatic phrasings, word order and so on. There's a field where you can type your solution, so you can compare it with the solution (no auto compare).
If you just want to focus on adjective endings, you can tap the little"?" and show the German translation with the adjective endings blanked out. And like last time, I am giving you the gender of the noun because not knowing it kind of gets in the way of really focusing on the adjective endings.
So here are the colors…
masculine – feminine – neuter
For the solution, just click the green button or listen to it in the audio.
Oh and I decided to only do 25 questions this time, so it's not that overwhelming (and so I can do a part three).
Can't wait to hear in the comments how you did.
Viel Spaß :)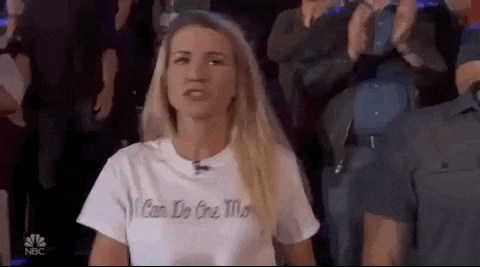 ***
***
Hooray!! You made it! I hope you don't have a headache now :)
How'd you do? How many did you get right? Did you have issues with a particular one? Let me know all your questions in the comments and we'll try to clear them up together.
I hope you enjoyed it. Let me know if you want another one of those. Schöne Woche euch, und bis nächstes Mal :).